YOUR PENNY AT WORK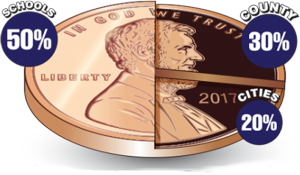 How funds generated by the 2016 Sales Tax Referendum are being used to improve our schools
These sales tax proceeds can only be used for school repairs, renovations, classroom technology, IT infrastructure, school buses and support vehicles. Every District school will receive repairs and upgrades as a result of the sales tax revenue before the sales tax expires in 2026.
---
Search for your school / facility in the box below.
Or choose from the dropdown list of schools and facilities by clicking here.
Select from the listed schools below. The green highlighted boxes provide current information on the Referendum projects. The pages are updated as projects progress. (07/11/2018)
---
ONGOING PROJECTS
---
K.E. Cunningham/ Canal Point Elementary
---
Independent Sales Surtax Oversight Committee
The Independent Sales Surtax Oversight Committee, or ISSOC, serves as an advisory committee to the School Board.
Its mission and membership is consistent with School Board Policy 1.09, Advisory Committees to the School Board.