Page 3 - Student Handbook 2017-18
P. 3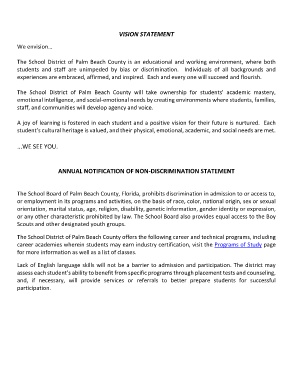 A Message to Students and Parents from

                                   Robert M. Avossa, Ed.D., Superintendent



                                  Welcome to the 2017-18 school year.


                                  With each new school year comes the opportunity for a fresh start! I
                                  encourage you to make the most of this year and set yourself on a
                                  path to realize your dreams by putting in the hard work today that
                                  will serve as the foundation for a successful and rewarding life.



                                  We are a high-performing school district ranking among the best in
                                  the  nation,  and  we  are  a  top-rated  school  district  in  the  state  of
            Florida.  Our teachers, school employees, and volunteers have been recognized at the
            state and national level for their excellence.   Our students regularly  win awards and
            scholarships, and they go on to prestigious colleges and fulfilling careers.


            The purpose of the Student and Family Handbook is to communicate the expectations,

            policies, procedures, and practices for the school year for all of our students and their
            families. The faculty and administration at each of our schools strive to provide the best
            educational opportunities that will contribute to all students' social emotional growth and
            academic achievement.


            As a District, we are charged with creating and providing a school climate where students
            and staff feel safe in an atmosphere of mutual caring, respect, and responsibility. It is with
            great pride that I welcome you to the new school year!





            Sincerely,


            Robert M. Avossa




             Robert M. Avossa, Ed.D.