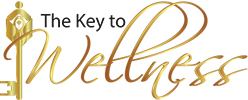 The 2015

Wellness

Promotion Policy Annual Report
The School District of Palm Beach County, Florida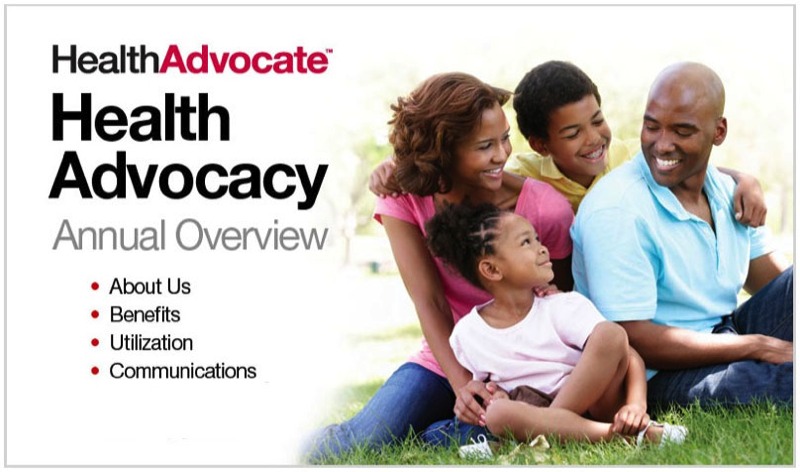 Risk & Benefits Management - Health
Advocate™, Inc.
About Health
Advocate™, a subsidiary of West Corporation
Health Advocate, a subsidiary of West Corporation, is the nation's leading independent healthcare advocacy and assistance company. With over 10,000 client relationships covering over 45 million lives, Health Advocate helps millions of Americans personally navigate the often complex healthcare system.

The School District of Palm Beach County offers a seamless integration of Advocacy and Employee Assistance Program (EAP) + Work/Life services to employees, spouses/ domestic partners, dependent children, parents, and parents-in-law at no additional cost to you. The District offers the Advocacy programs through Health Advocate which is headquartered in suburban Philadelphia, and the EAP + Work/Life through Corporate Care Works (CCW), a division of Health Advocate, located in Jacksonville, Florida.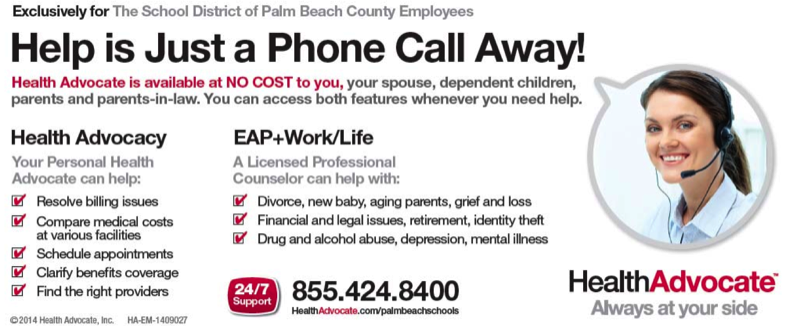 Executive Summary for the Programs
Advocacy, EAP + Work/Life are key benefits in the overall offering to the employees and families of the School District.

One of the goals that we embarked on in the last year was to look for new ways to infuse communications throughout the year to continue to promote the programs. The overall interactions in 2014 increased to 12,245, where we saw 8,353 in 2013.

Employee assistance and Work/Life benefits continue to be the strongest driver to the program in 2014. Claims Assistance continues as the second largest call driver. Specialty Care Locators and Benefits Education round out the top 4 top call drivers throughout the year.

Health Advocate continues to partner in health and wellness fairs, Wellness Champion meetings, EAP + Work/Life Advisory Committee meetings, ongoing communications and webinars, new employee orientations and ongoing onsite training sessions. During this last year, Health Advocate added an increased focus on the Advocacy benefit by speaking about it during Wellness Champion meetings and partnering with the Risk and Benefits team to create additional custom communications (stuffer during open enrollment, custom flyers and custom case studies).

Health Advocate continues to be a very strong benefit for the District and their families.
Spotlight - What Employees Are Saying
Although my issue did not end in a positive way for me, my Health Advocate did everything possible to assist me. He went above and beyond. (January 03, 2014)

Thank you for your help. (January 28, 2014)

Thank you. (January 29, 2014)

Could not have been happier with the service provided by Mr. Rick Stevens! Many thanks! (January 31, 2014)

I spoke with three different Advocates, and all 3 were very helpful and went beyond the call of duty. (February 21, 2014)

The Health Advocate service was extremely helpful. They helped me find some wonderful doctors and resources. I have also referred my co-workers to Health Advocate. Thank you so much! (March 25, 2014)

The advocate was very helpful. (March 31, 2014)

Everyone at Health Advocate who helped me was awesome! The staff was so helpful and informative! Also, very on top of everything! (May 30, 2014)

Very wonderful experience. (July 01, 2014)

Very compassionate and professional staff. I was very impressed with Health Advocate! (July 24, 2014)

Very grateful for this benefit, it saved me time and money! My advocate kept me informed during the process so I knew I had not fallen through the cracks nor been forgotten. Thank you! (August 25, 2014)

The advocate took the time to really help me with my situation. I really appreciate it! (October 03, 2014)

I appreciate the professionalism of the advocates. (October 03, 2014)
The Health Advocacy Benefit
Employees have access to Health Advocate's Health Advocacy service, a unique benefit that gives each member (which includes the employee, employee's spouse/ domestic partner, their covered dependents, their parents or parents-in-law) access to a dedicated Personal Health Advocate. These are typically registered nurses, supported by medical directors and benefits and claims experts. Personal Health Advocates work one-on-one with members to resolve a variety of time-consuming healthcare and insurance-related issues. Here are some examples of why you might call:


To educate the members on their benefits and ask general benefit questions

To correct billing errors

To receive assistance with questions regarding Medicare

Questions about and/ or assistance with medical or dental bills

To locate elder care resources for you or your family

To receive an explanation of conditions or treatments

To receive assistance with Rx questions
The Employee Assistance + Work/Life Program Benefit
The EAP + Work/Life program offers access to a Licensed Professional Counselor for short-term assistance with personal, family and work-related problems. A work/life specialist can help find a range of support resources. The program's comprehensive website offers articles and workshops on topics from wellness and career development to assistance with financial, legal, and identity theft issues. In a crisis, emergency help is available 24/7.
Talk to a Licensed Professional Counselor to learn coping skills for:
default_title

Personal, work, and family issues (i.e. stress and depression)

default_title

Drug and alcohol use

default_title

Referrals for in-depth, long-term help if needed
Call the work/life specialist to find supportive services for:
default_title

Eldercare, childcare

default_title

Legal, financial issues

default_title

Parenting, adoption
default_title

24-hour Helpline for stress, financial concerns, balancing work/family life, and/or any issues that could or are impacting employee health and productivity

default_title

Unlimited risk management consultations to principals and employee relations

default_title

EAP impact reports

default_title

Training and EAP outreach/promotions

default_title

Online services with thousands of resources such as: articles, assessments, online training, and webinars
Spotlight - Advocacy Utilization
Health Advocate provided assistance with 2,611 interactions across the last year! 42% of the calls were driven by claims assistance needs. The 2nd and 3rd call drivers were Specialty Care Locator (18%) and Benefits Education (9%).


Top 3 Advocacy Categories for the 2014-2015 school year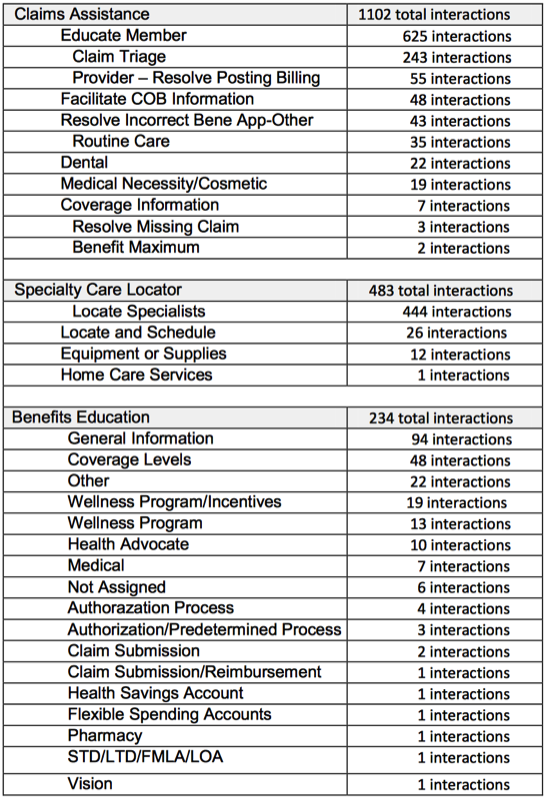 EAP + Work/Life Spotlight - Utlization
Health Advocate provided over 8,500 hours of service in 2014 for the District employees and their families. Employees continue to use the online classes as the highest driver for utilization. Health Advocate continues to make a significant impact through more than 4,900 employees accessing onsite support and training!

Onsite workshops for non-instructional employees were provided monthly, where professional development points could be earned, as well as valuable Worklife skills learned. This activity attracted 218 employees to the Fulton-Holland Education Center and 26 employees at the school sites. In addition, online courses were also available that drew in 632 non-instructional employees.

The top 3 reasons for utilizing the EAP were Emotional, Worklife and Family. Relationship and Occupational round out the top 5. Of the cases that were handled with the counselors, 79% were handled by the EAP team. The additional cases were coordinated with various other resources (i.e. legal assistance, outpatient mental health, additional financial resources, community resources, etc.).

Top 5 training sessions for the 2014-2015 school year:

•
Time Management
•
Do More with Less Stress
•
Dealing with Difficult People
•
Stress Relaxation Techniques
•
Using Humor & Other Relaxation Techniques to Manage Stress in the Workplace
Health Advocate is happy to be able to serve the employees and families of The School District of Palm Beach County, Florida. If you have any questions about the Advocacy or the EAP + Work/Life benefit, please call (855) 424-8400.

For more information, please click on www.healthadvocate.com and type in "The School District of Palm Beach County."