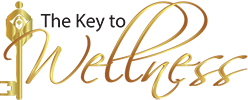 The 2015

Wellness

Promotion Policy Annual Report
The School District of Palm Beach County, Florida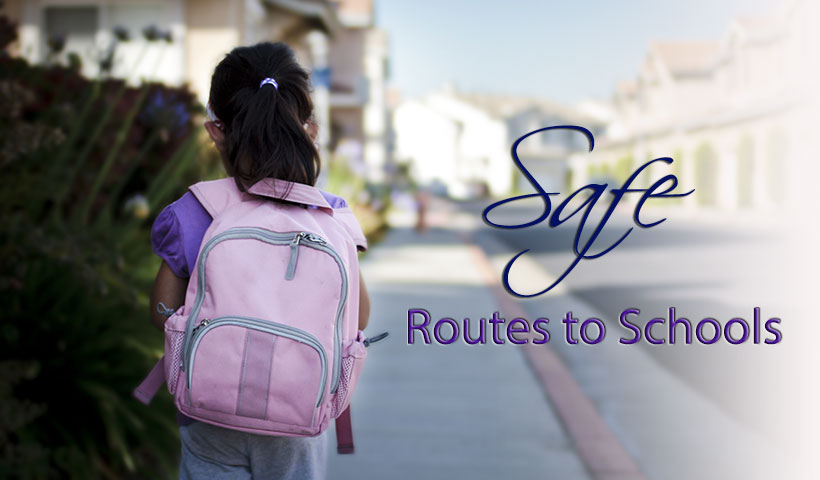 Planning and Real Estate Services – Safe Routes to Schools Coalition
Mission Statement
The mission of the Safe Routes to School Coalition is to assist communities, schools, and parents in enabling and encouraging children, including children with disabilities, to safely walk and bike to school. The Coalition strives to equip children and their families with the knowledge, training, and technical information needed to implement safe and successful strategies. In the process, these programs are working to reduce traffic congestion, improve health and the environment, and making communities more livable for everyone.

Because of limited resources, the District did not apply for a Safe Routes to School non infrastructure grant. Instead the District applied for an infrastructure grant to change out post arms flashers at four schools along Australian Avenue: Roosevelt Elementary, Roosevelt Middle, Lincoln Elementary, West Riviera Elementary, and at Palm Springs Middle on Kirk Road. These overhead flashers are important to the promotion of wellness because students are more likely to walk and bike on safe roads. This promotes physical exercise and decreases the amount of air pollution. Fortunately, this grant has been awarded, and approximately $500,000 should go towards replacing these flashers.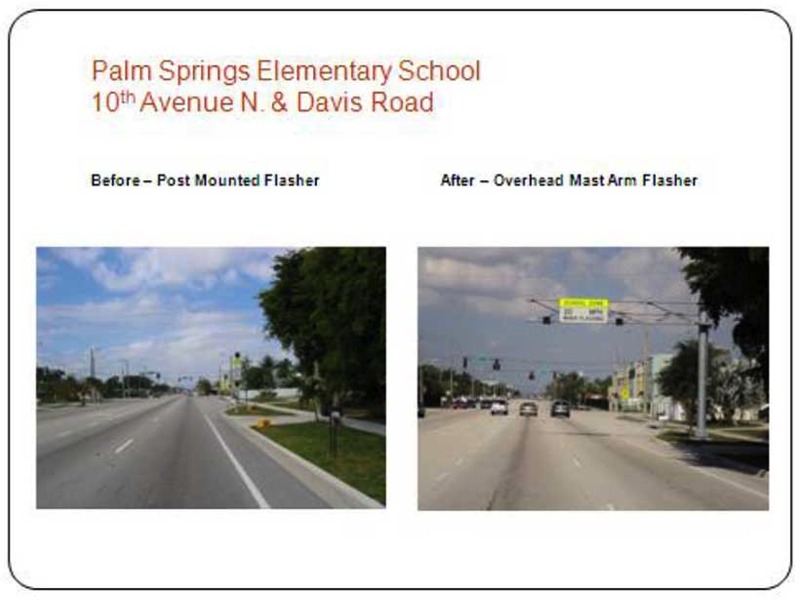 Functions of the Safe Routes to Schools Coalition Include:
default_title

Review of walking paths and bicycle pathways within the two mile radius of the schools.

default_title

Review of existing traffic signal locations and assess need for change in signal timing and signal count down.

default_title

Identify crossing guard locations and areas where crossing guards may be needed.

default_title

Identify any other physical problems such as curbs and ramps, or lack of stop signs and crosswalks.

default_title

Evaluate the pickup and drop off area at schools.

default_title

Evaluate bus traffic.

default_title

Determine if there is a need for additional bike racks at schools.

default_title

Identify any other hazardous characteristics such as students crossing at midblock, drivers not yielding to pedestrians and students in cross walk.

default_title

Identify any other physical needs to assist in providing Safe Routes to school.
Palm Beach County residents often inquire on how they can get a pathway/sidewalk for a particular roadway or street. Once the School District receives a request, staff informs the County Traffic Engineering Department. The request can also be made directly to the county who then evaluates it and prepares a cost estimate. The Pathway Committee meets in August annually and is made up of representatives from the Palm Beach County Sheriff's Office, the School Board and Palm Beach County Traffic Engineering. The committee makes recommendations for funding pathways. Paths for elementary schools are considered a priority. The Board of County Commissioners considers staff recommendations and approves the annual program.

Approximately $800,000 is allotted annually for sidewalks providing safe routes to schools.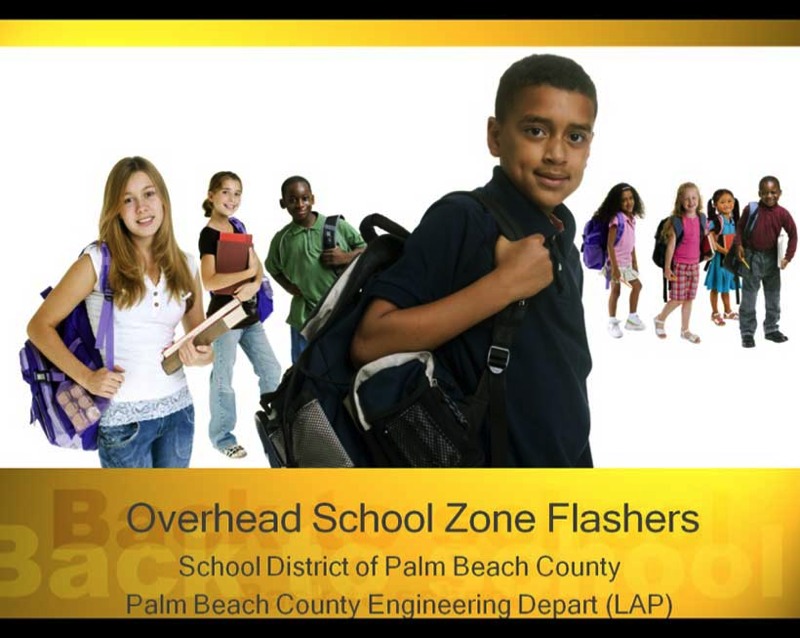 Metropolitan Planning Organization (MPO)
Bicycle, Greenways, Pedestrian Advisory Committee: The Bicycle, Greenways, Pedestrian Advisory Committee - BGPAC is responsible for advising and informing the MPO Board regarding bicycle and pedestrian issues in Palm Beach County.

Enactment of the 1984 Florida Bicycle Bill required all county and local municipal governments to give full consideration of the bicycle when planning and developing transportation. Florida became one of the nation's leaders in bicycle planning with the creation of a State Bicycle Office, Bicycle Coordinators in each FDOT District, and Bicycle/Pedestrian Coordinators in a number of counties, including Palm Beach. Here, a Bicycle/Pedestrian Advisory Committee was formed in 1987, to provide input to the MPO Board and staff on bicycling and pedestrian-related issues. This B/PAC now includes Greenways issues, has 16 members, meets monthly, and includes representatives from:
default_title

State Department of Environmental Protection (Air Quality)

default_title

County Department of Environmental Resource Management

default_title

Greenways/Trails/Blue ways Representative

default_title

County School Board Planner

default_title

County Health Unit

default_title

County Engineering

default_title

County Planning

default_title

County Parks & Recreation

default_title

PBSO Representative (Sheriff's Office)

default_title

Municipal Planners

default_title

State Pedestrian Safety Program Director

default_title

Safe Bicycling Coalition of Palm Beach County

default_title

Bicycle Industry/Retail Representative

default_title

Ex-Officio: FDOT District IV Safety Office

default_title

Ex-Officio: MPO Bicycle/Greenways/Pedestrian Coordinator
Technical Advisory Committee: The Technical Advisory Committee (TAC) is made up of technical staff representing the various local governments within Palm Beach County and the School Board – primarily planners and engineers. The TAC is responsible for reviewing and evaluating transportation-related plans and programs before these items are presented to the MPO Board.

The TAC ensures that the studies, plans, and programs submitted to the MPO are technically sufficient, accurate, and comprehensive. This enables the MPO Board to have the input of local technical staff in its decision making process.

Planning staff represents the School District on these two committees. These committees are instrumental in providing safe routes to schools for students and their families. Projects approved by these committees promote overall health and wellness in the communities to the families in Palm Beach County and to our visitors.
Planning staff represents the School District on local governments' development review committees. Staff ensures that developers provide adequate school bus turnaround, bus shelters, and require that they provide sidewalks in front of the their developments or missing links in order to provide a continuous safe path to school for students.